Home
Business and Conferences
Whats on!
Local Ales & ciders
Alcohol free!
Photo Gallery
Newsletter signup
The Brecon Beacons
HORSESHOE CHILDRENS MENU




All £4.95 except where otherwise stated

Sausage and Mash

Ham egg and chips

Jumbo Fish Fingers with chips and peas or beans

Vegetable risotto with Parmesan

(Sundays Only)
Roast beef with Yorkshire pudding, roast potatoes and vegetables £5.95
Quality Welsh produce, cooked with excellence!
We source our food as locally as possible and we are insistent on telling you the provenance of the main part of our food. So, for example if we say its Welsh, its Welsh! We do not aim to be or become a gastro pub or Michelin star but we do aim to produce good simple pub food using the best local ingredients.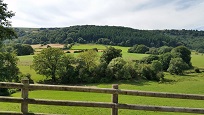 The Horseshoe Countryside